Wild Bird Society of Japan - Hiroshima Prefecture Branch
Birdwatching at Matsunaga Bay
Birdwatching at Yahata River
29 April (National holiday)


We will watch shorebirds at Matsunaga Bay, eastern Hiroshima, and at Yahata River Estuary, western Hiroshima. They are among only remaining tidal flats within Inner Seto Sea. We will think the importance of those remaining tidal flats.
Wild Bird Society of Japan - Tokushima Prefecture Branch
Sparing Has Come! What Birds, Insects and Fish Are Doing?
Sunday 18 April at Yoshino River Estuary
The construction works has begun for the huge bridge that will cross over the area. A reclamation is also planned at Okisu Beach. Many wildlife live in these areas.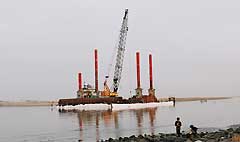 Tokushima Nature Watching Society & Yoshino River Tidal Flats Fan Club
Feel Breeze at Yoshino River: Open Cafe & Eco-art
Sunday 2 May 10:00 -
Fee: 100 yen and additional 100 yen for those who wish to participate in eco-art activities.
(material costs for making a fiddler crab with wires)
Regretfully the construction works has begun for the crossing bridge over the tidal flats. News steps will begin by arranging handmade fiddler crabs of wires around the area.
Canoe Shop "Haruriba"
Wildlife Watching Canoe Tour at Kasuga-hama
Saturday 29 May 10:00 -
In case of rain, it will be postponed to the next day
At Kasuga-hama and Yashima Natural Beach, Takamatsu City
Meeting point: Canoe Shop Haruriba at Kasuga River Estuary
Fee: 9,800 yen (reservation required)
Mr Haru in the canoe industry, a tidal flat keeper, will show you tidal flats and Kasuga-hama, famous historic place as a battle field in old Japan. Beginners for canoeing are also welcome.

Wild Bird Society of Japan - Ehime Prefecture Branch
Birdwatching at Shigenobu River Estuary
29 April (National holiday) 9:30 -
No fee required.
Birdwatching at Kamo River Estuary
29 April (National holiday) 13:00 -
The same as the last year, we host birdwatching gatherings at two estuaries. Let's think about the importance of tidal flats through watching shorebirds.