Recent Events Relating to the Isahaya Land Reclamation Project (Nagasaki, Japan)
By Ryoichi Hori, Attorney at Law, Japan Wetlands Action Network Steering Committee
[From "JAWAN News" no. 78, 1st July 2004, translated by M. Suzuki]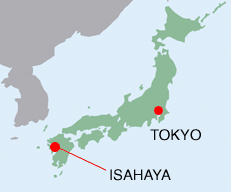 The Ariake Sea [of which Isahaya Bay is part] is now being hit by serious environmental degradation and damage to fisheries.

On 14 April, 1997, construction was completed on the dike that now closes 3,500 hectares of Isahaya Bay's tidal flats and shallows was off from the sea, which resulted in extermination of this formerly rich ecosystem. About 300 steel slabs were dropped into the sea to complete the dike that has choked off the wetland's breath of life - the tides.
Since that time, throughout the greater Ariake Sea there have been declines in tidal flows, aggregations of deoxygenated water, "red tide" algal blooms, and, more recently, the shocking and ominous occurrence of mysterious floating matter composed of a sticky substance that twines around fishing nets.

Fishermen have been driven out of business one after the other by declines in fish and shellfish catches, and harvests of laver edible seaweed aquaculture continues to suffer historic lows. Many laver seaweed aquaculturists have incurred heavy debts in an effort to stay in business, and are hard pressed to repay. As harvests fail to recover, some have even been driven to suicide. In one miserable case, a laver seaweed aquaculturist laden with insupportable debt attempted double suicide with his elderly mother - she died but he was unable to kill himself and has been indicted for murder of his mother with her consent.

With this situation as the backdrop, a civil suit seeking to win an injunction to halt the Isahaya Bay Land Reclamation Project has been brought to the Saga District Court. The provisional disposition of this suit is presently pending. Also pending is a case that has been brought before the Environmental Dispute Coordination Commission (EDCC) (http://www.soumu.go.jp/kouchoi/english). in Tokyo aimed at determining if there is a relationship of cause and effect between the Isahaya Land Reclamation Project and damage to fisheries. This means that this year will most likely see a major turning point in this issue.

In the cause-and-effect case before the EDCC, examination of the witnesses started in April this year (2004), marking the start of actual proceedings.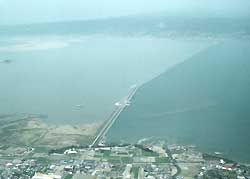 On 2nd April, five fishermen representing various parts of the Ariake Sea and also representing various fisheries, including net fisheries, diving fisheries, laver seaweed aquaculture, etc., gave vivid testimony on the ecological changes in the Ariake Sea and the damage to their fisheries. They also resolutely refuted the government counsel's mean-spirited, fault-finding cross-examination.

Following this, cross-examination of expert witness is now proceeding. Three expert witnesses were brought in by the fishermen's [plaintiff's] side, with expertise in tides & tidal flows, red tide algal blooms and benthos (sea bottom dwelling organisms). Presently, testimony has been completed on tides & tidal flows and red tides by four experts, two for the fishermen and two for the government. Despite the existence of a large number of experts and monographs dealing with the ecological change now happening in the Ariake Sea, neither of the two government experts have published anything on the subject or conducted any actual surveys or research on it, and so their testimony was limited to general remarks. At one point during the questioning on red tides, one of them said, "I am not an expert on red tides," which got a big laugh from the gallery.

Also, a one-and-a-half day on-site inspection was carried out by members of the Commission, who saw dead ark shells brought up by divers, witnessed changes in tidal flows demonstrated with the use of fishing nets, and viewed the state of the sea bottom with the aid of underwater cameras and fish scanners. Commission members displayed an active interest and asked many questions of the fishermen.

With the completion of testimony by two more expert witnesses in June, the Commission will start their internal deliberations in earnest, and it is possible that they may come to their conclusion as early as the end of this year (2004).

The decision in the case being brought before the Saga District Court is now being delayed: it should have already been handed down but is still being expected.

* * *

The national and prefectural governments have already been forced to at least try to do something about the serious damage to fisheries, and established a "Third-Party" committee [in Feb. 2001] to study the laver seaweed aquaculture situation. In order to verify the assumption that ecological deterioration in the Ariake Sea is being caused by the Isahaya Land Reclamation Project, this committee recommended surveys involving opening gates in the Isahaya dike for short-, mid- and long-term time periods. The response of the national Ministry of Agriculture, Forestry and Fisheries (MAFF), which is carrying out the project, was to implement a functionally meaningless short-term survey to obfuscate the issue, and then establish a new "Third-Party" committee composed mainly of people formerly employed or closely connected with the Ministry who are eager to conclude that mid- and long-term surveys are unnecessary. [Construction continues on the Project, notably on an inner dike that will severely complicate the potential for restoration.]

This has elicited strong protests from fishermen. Unable to ignore the fishermen's disastrous situation, the legislative assemblies of three of the four prefectures bordering the Ariake Sea (Fukuoka, Kumamoto, and Saga, the fourth being Nagasaki, where Isahaya is located) passed unanimous resolutions calling for opened-gate surveys, and coastal cities and municipalities one after the other have followed suit in passing similar resolutions, making it difficult for the MAFF to continue to refuse to carry out the surveys.

However, on May 11th, just after Japan's national spring holidays, the MAFF Minister unilaterally announced that mid- and long-term open gate surveys "would not be necessary," in complete disregard of the fishermen's plight and the opinions of local governments and the public. He also further obfuscated the issue by publishing an "alternative" plan.

Fishermen immediately converged on the main Kyushu MAFF office to stage an angry demonstration. On May 24th, the prefectural associations of fishing cooperatives of Saga, Fukuoka and Kumamoto gathered for a public meeting, and in the midst of heated discussions, but undaunted by the attacks of the MAFF, they confirmed their commitment to calling for mid- and long-term surveys.

The Isahaya Bay/ Ariake Sea situation is therefore now in the throes of a very close contest. JAWAN will be expected to play an even more active role in this issue in future.


---